Windows & Room Acoustics: Problems & Strategies
What do I do about my windows?
One of the most common questions we get is: how do I treat my room when it has a window on this wall? It's an important question, since a window is a static part of the room and can't be relocated like a piece of furniture. So we need to plan around them carefully, when trying to optimize sound and acoustics ins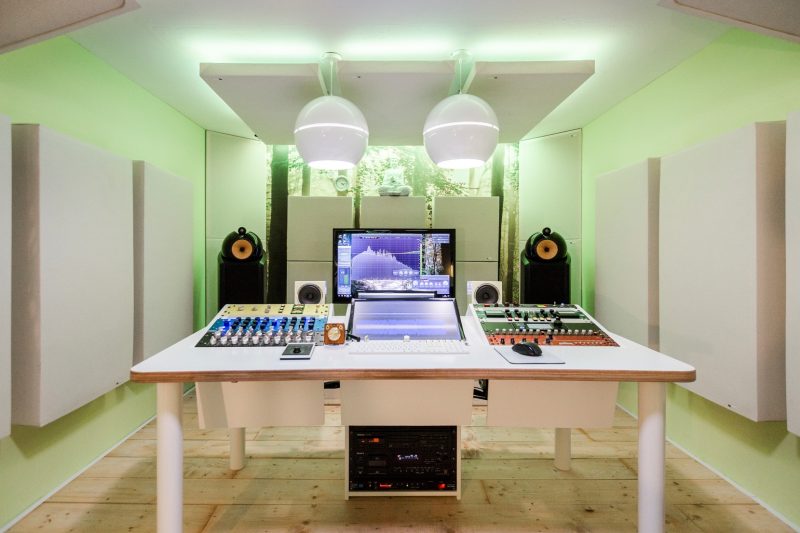 ide a room.
Reflections
Surfaces in a room reflect most sound that hits them, and the differences are surprisingly subtle. The truth is a good quality window that's been properly installed probably doesn't affect soundwaves much differently than other wall surfaces like drywall, wood, bricks, or concrete. Window glass is probably smoother so it might be more reflective at ultra-high frequencies, whereas wood & drywall probably have a bit more absorption to them (though still a very tiny amount of absorption compared to an acoustic panel). But the overall tonal differences between these materials aren't as great as most people believe.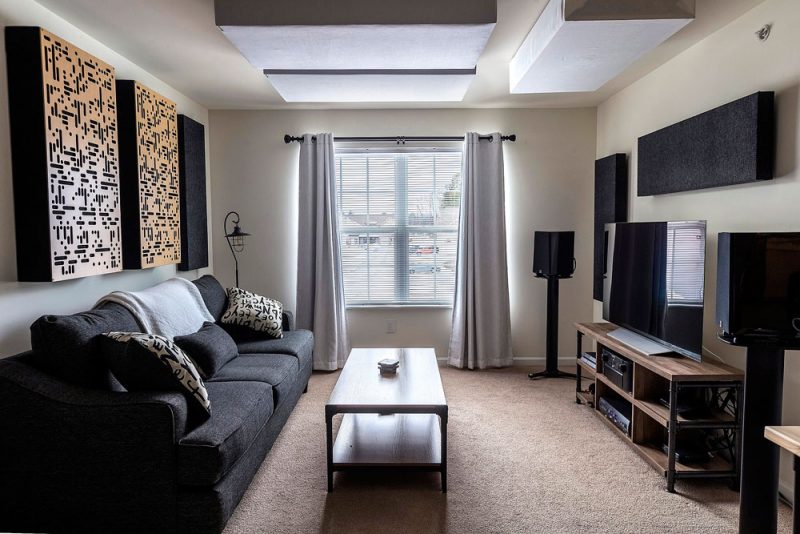 Effects of Windows
Where a window is situated in the room presents the biggest challenge. Often the location prevents mounting a sound absorption panel. If the window is in a critical treatment area, like a reflection point or near a corner for bass trapping, then it complicates things and limits options. But the good news is if the window isn't in a critical area like this, then it's usually fine to just skip that location and install the panels elsewhere. Apart from specific strategies (like early reflections), a room's sound is more about the number of panels in the room (or more accurately, the total surface area of all the panels in the room) than where each panel is placed individually.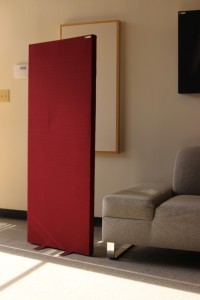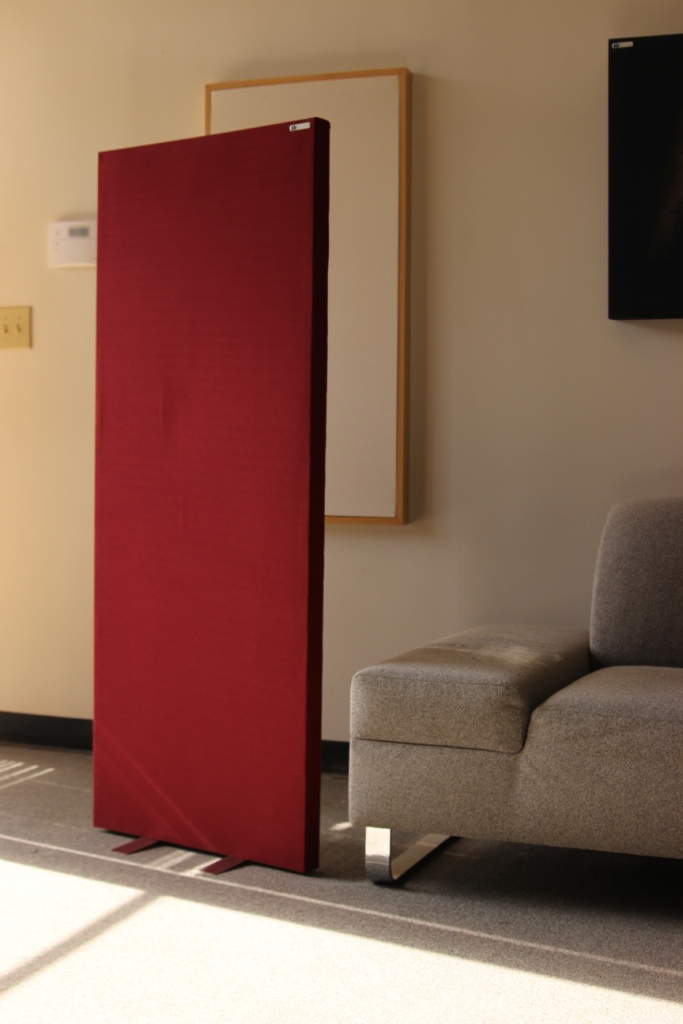 Setup Tweaks
The most obvious solution if you have windows to contend with is to arrange the room so that the windows aren't in critical locations. In most instances, having the speakers fire AWAY from the windows, leaving windows on the front wall behind the speakers, gives best results because the side reflection points, rear wall, and corners are then usually free to accept treatments. Room setup, particularly in shared living spaces, is always a juggling act of sometimes-conflicting variables, so keep the windows in mind as you look through the other guidelines in our general room setup advice.
Windows in a critical treatment area? Stand up!
What if your setup is complete and you have a window in a critical area you'd like to treat, such as a reflection point on the side walls of a listening room, the rear wall behind the listening position, or near a corner where you'd like to put bass traps? The best option for these areas is usually to use freestanding panels that don't require mounting, so the panel can be in the right place to do its job, without mounting, and is easily movable if access is required. There are several ways to accomplish this with quite a few GIK Acoustics products.
The simplest solution is to put a 242 Acoustic Panel, 244 Bass Trap, or Monster Bass Trap onto a Custom Metal Stand. This allows you to use the exact same treatments for either wall-mounted or freestanding spots. The stands are sold as separate accessories so you can add exactly as many as you require.
If you are using Alpha or Impression Panels, you can select the "FreeStand Support" option, which includes metal "feet" installed into the bottom of the panel to keep it upright without mounting.
Or, our FreeStand Acoustic Panel or the thicker FreeStand Bass Trap can be deployed in front of a window.
For corner bass traps, often the best solution is to stack corner units in front of the window. These are usually our Soffit Bass Traps, Tri Traps, Corner CT Alphas, or Corner Impressions. These options are useful if you want the absolute best bass performance (Soffits) or if you want the panels to take up the least amount of room space (Tri Traps, Corner Alphas/Impressions). Stacking them allows you to maximize coverage area in the room without taking up more floor space, but these units can still be moved out of the way if access to the window (or closet door or similar) is required.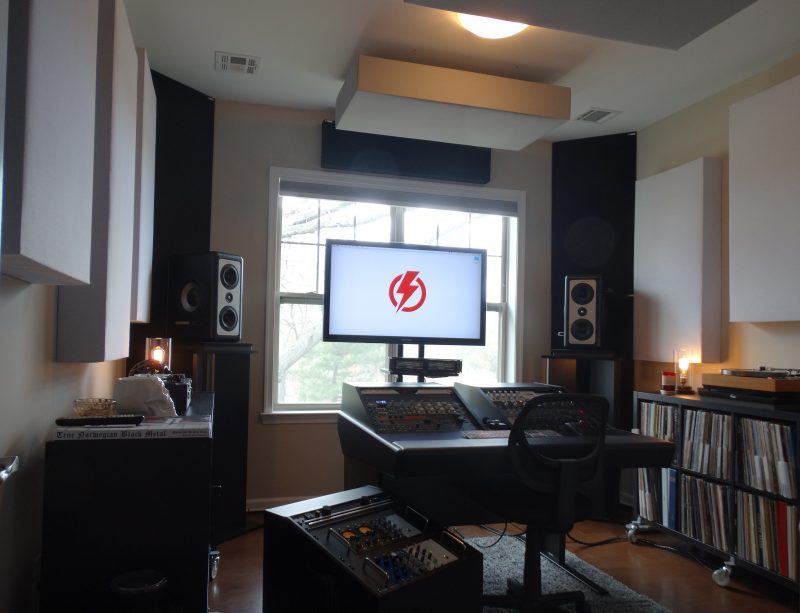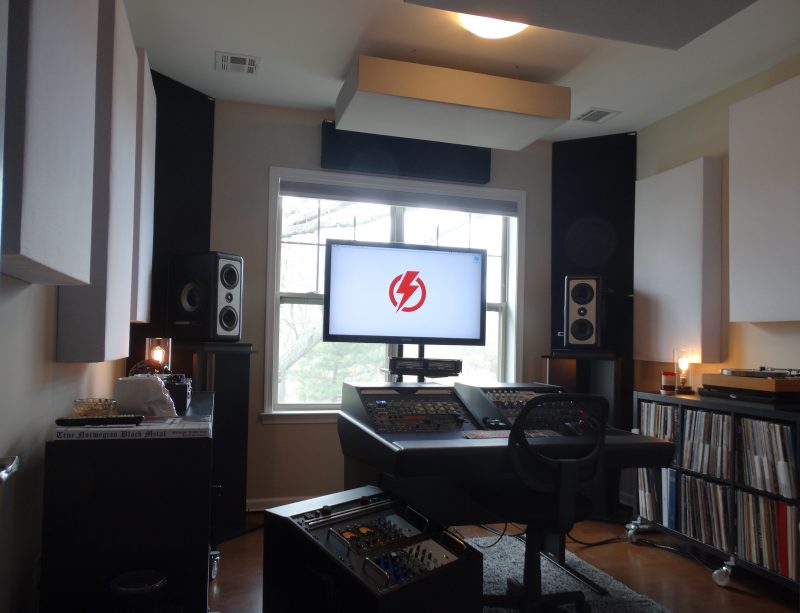 Stopping Sound from Entering or Leaving through Windows
Outside noise can sometimes bleed in through windows and introduce unwanted sounds into the room, which is a problem for quiet recording situations like voiceovers or softer acoustic instrument recording. Conversely, sometimes sound going OUT of the window (from a loud audio system or a loud instrument being recorded) can disturb neighbors or roommates.
As always, stopping sound from entering or leaving a room is an entirely different problem than making a room sound good for music or audio. GIK Acoustics products are NOT designed for soundproofing. As you will read in this article about soundproofing, the only means to truly mitigate outside noise will always involve construction of some sort. For windows, this often means integrating window sealant (like weatherstripping) or upgrading windows to a model that is designed to stop sound more efficiently.
Get Free Acoustic Advice
If you are still unsure and are looking for advice on the best way to treat your room, you can read more of our articles or get our free acoustic advice from one of our GIK Designers here