ATLANTA, GA (January 11, 2017) – Leading acoustic treatment manufacturer GIK Acoustics is making a profound impact on room treatments with the launch of the Impression Series – a line of acoustic panels and bass traps with beautifully decorative plates that deliver a visual statement to enhance any room.
The Impression Series panels are ideal for creating an even balance of low end absorption without losing high frequency presence. The rigid plate not only gives the panel a stylish appearance but also helps reflect/scatter high frequency content in the room giving the proper balance needed.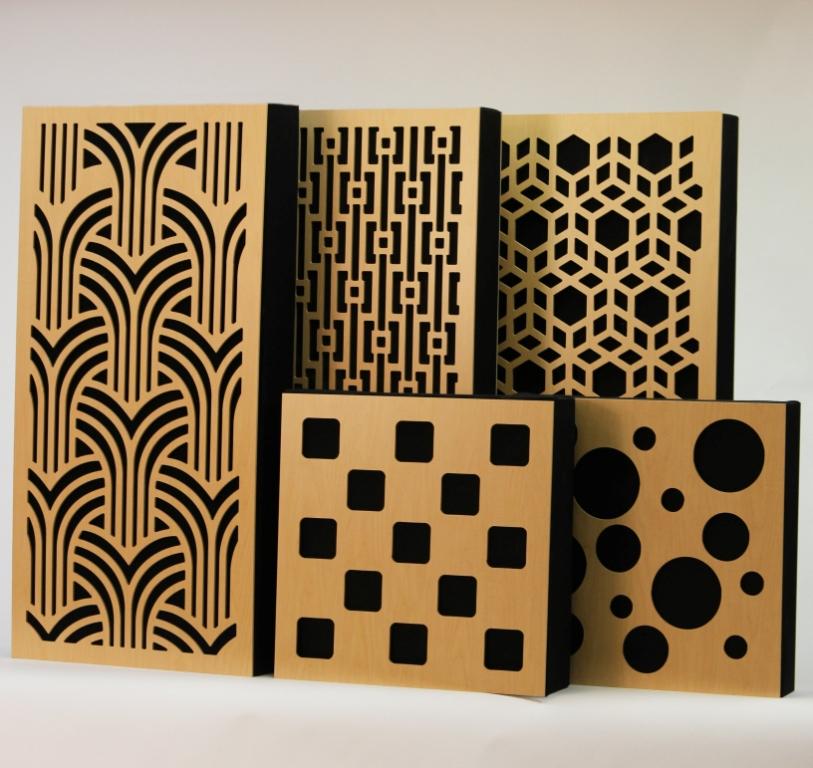 GIK offers the Impression Series panels in
FIVE elegant designs
Bubbles, Checkerboard, Gatsby Arches, Mod Geometric, 3D Cubes
THREE standard sizes
Square (595mm x 595mm) | Narrow (300mm x 1200mm) | Rectangle (600mm x 1200mm)
THREE levels of absorption
50mm thick | 100mm thick | or 150mm thick
THREE plate finishes
Beech wood veneer, black veneer, white veneer
The Impression Series panels not only perform well in critical listening environments (audio rooms or studios) but are a perfect fit for any space. Designed to enhance any setting, the Impression Series panels are ideal for professional, household, or public places where the room acoustics interfere with enjoyment or productivity. The Impression Series panels are effective in any space where speech intelligibility is compromised or the room has too much reverberation and is too loud.
"We understand the appearance of conventional acoustic panels may not appeal to everyone," said Glenn Kuras, President of GIK Acoustics. "That is specifically why we developed the Impression Series to have a visual as well as an aural impact. We are proud to offer a line of acoustic treatments that are not only superior at controlling the acoustics of a room, but will transform the look and aesthetic of a room as well."
Always expanding their acclaimed portfolio of acoustic treatments, GIK Acoustics launched the Impression Series worldwide on January 15, 2017.
The Impression Series will made a public debut at The NAMM Show in Anaheim.


For pricing and additional information, please visit:
https://gikacoustics.co.uk/product/impression-series-acoustic-panels-bass-traps/
About GIK Acoustics:
Founded in Atlanta, GA, in 2004, GIK Acoustics understands the importance of great sound. GIK Acoustics-U.S.A. and GIK Acoustics-Europe (based in Bradford, UK) manufacture and sell bass traps, acoustic panels and diffusors direct to customers around the world. Dollar for dollar, GIK Acoustics' products absorb more sabins (sound) than any other product on the market. It is clear that GIK Acoustics is the #1 choice in acoustic treatments for recording studios, listening rooms, home theaters, churches, restaurants, and live auditoriums. We proudly offer a large selection of highest quality products at affordable prices as well as provide clients with a professional design and support staff to achieve a quality acoustic space.
www.gikacoustics.co.uk, www.gikacoustic.fr, www.gikacoustics.de, www.gikacoustics.it
For media inquiries, contact:
Shelly Williams, Marketing Director
shelly.w@gikacoustics.com
Phone: 770.986.2789 (U.S.)
Phone: +44 (0) 20 3815 8606 (Europe)