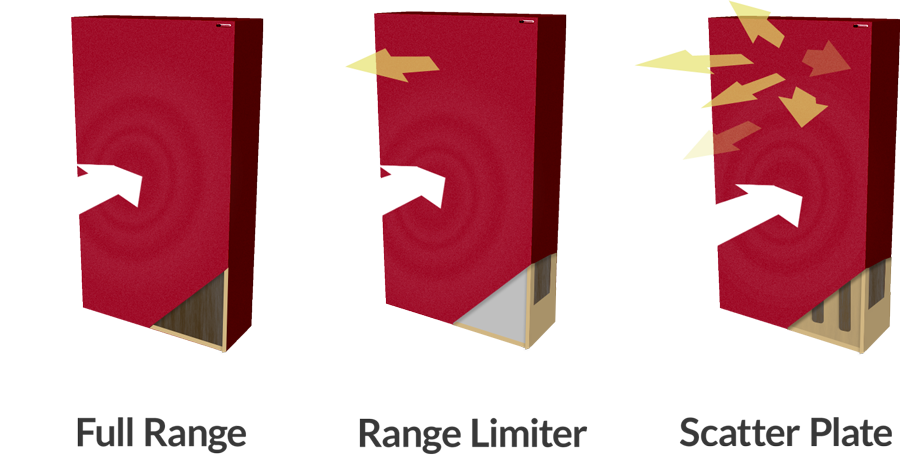 Improve Sound Quality
GIK Acoustics' bass traps treatments are constructed with rigid fiberglass and absorb more low-end frequencies in a room. Bass Traps are a very cost effective manner in which to treat a room. Our Bass Traps have a profile ranging from 101mm - 177mm and up, which are perfect for tightening up low frequencies that may distort the listening experience, especially when in a specifically small listening environment. The thickness of the profile of the bass trap panels forces the sound waves to travel further inside of the panel, which is why it is considered bass trapping.
Quality Materials
Crossbanded layers and balanced construction mean that hardwood plywood won't shrink, swell or warp as much as lumber. To finish our acoustic panels and bass traps, we offer an array of fine fabrics - from our standard 9 options to the full line of Camira acoustic fabrics. Our team of professional builders handcraft each bass trap to exacting standards ensuring the most attractive, effective, and dependable products. The difference is our customers are secure in knowing they receive the very best made-to-order acoustic treatments available.
Installation
GIK Acoustics 244 Bass Traps and Monster Bass Traps come standard with 4 eyehooks in the back of the frame and accompanying picture wire. Once you have your orientation and height decided, simply attach the wire to the panel and install on the wall like a picture frame. We recommend Ooks Hooks, but any picture hook will work.GIK Acoustics products are beyond simple and cheap do-it-yourself panels that are found on the market today. We start with only the highest-quality materials that will not sag or leak over time, then we build every acoustic panel by hand. Some companies use inexpensive and cheap materials to make their bass traps, but GIK Acoustics crafts bass traps with high-quality insulation material, fabrics, and hardwood plywoods. We start with absorptive insulation material intended for room acoustics. Others use cheap mineral wool whose main purpose is to insulate a ship's engine room. We then use carefully selected hardwood plywoods - not cheap imports - to construct our frames. The difference and chief advantage is dimensional stability.