GIK Acoustics Demi Q7d Diffusor
£ 300.00 per pair Exc VAT | £ 150.00 each
£ 360.00 per pair Inc VAT
To provide our customers with the best possible value, the Demi Q7d Diffusor is packaged in pairs. If you wish to order a quantity that is not in multiples of two, please contact us to determine shipping rates.
Description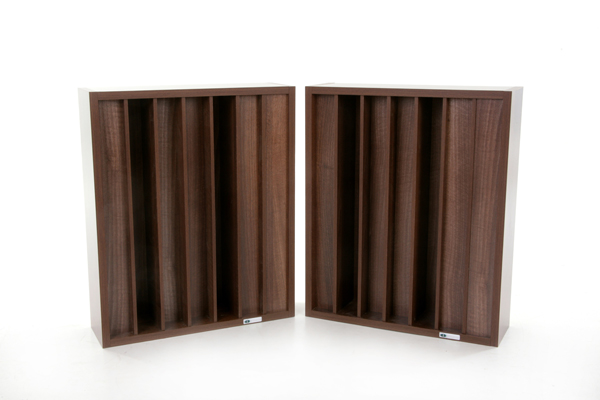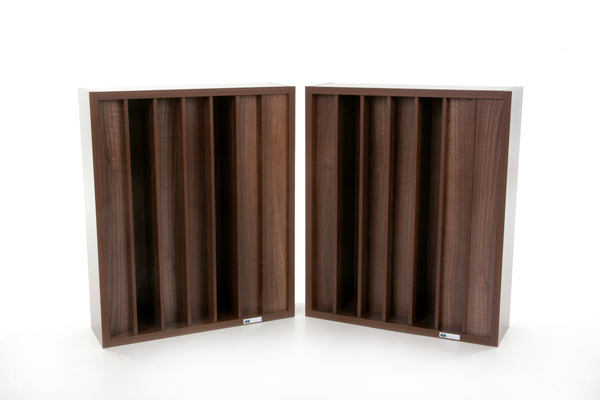 Like the full size Q7d, the Demi Q7d Diffusor is made using high quality wood laminates which are cut using CNC machines that result in extremely tight and repeatable tolerances. We use the same 7-root well design as the full size Q7d, but the Demi Q7d is only half as tall.
The smaller size makes the Demi Q7d an ideal solution to hang in mirror imaged pairs to cover a larger area without repeating the well pattern to avoid lobing. Quadratic-residue diffusors (QRDs) were designed with a wider bandwidth in mind.  Diffusors scatter sound waves to make a room sound larger or reduce aberrations such as echoes.
Like the full size, the Demi Q7d Diffusor offers a wide variety of placement options from rear wall, reflection points, or behind dipole / bipole speakers to address specific situations. It can also be used in more general places to minimize slap echo.
Features:
All wood, 7-root well diffusor

Available in brown wood veneer finish

Size: H 585mm x W 498mm x Depth 155mm
Weight: 9kg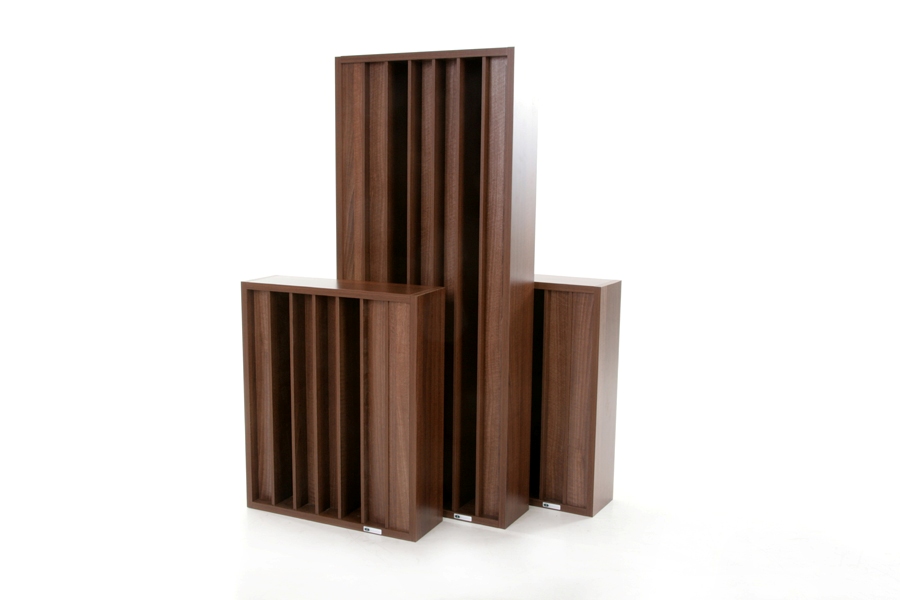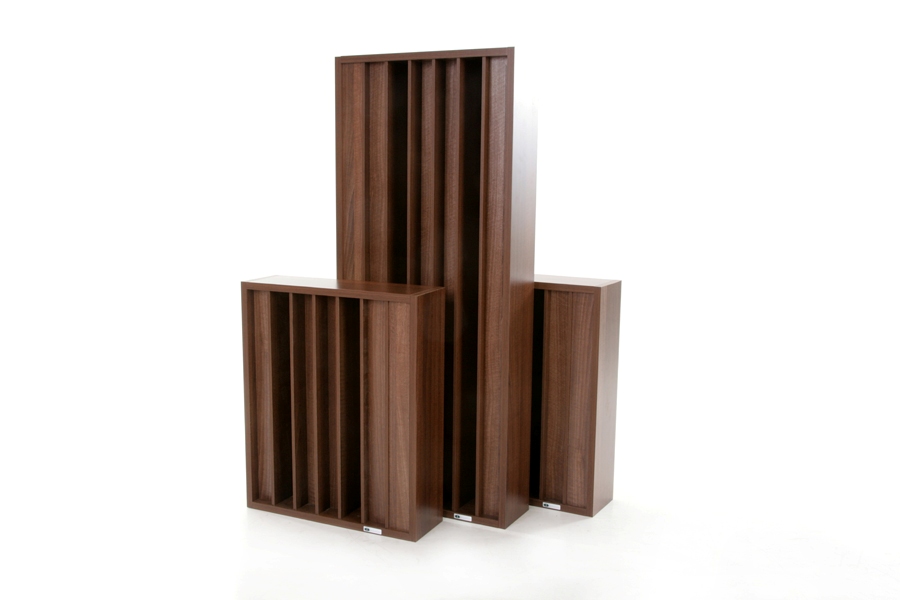 Video
Room Acoustics, The Basics: Bass Traps, Acoustic Panels, Diffusion
This video explores the basics of room acoustics. Most of us use existing rooms such as bedrooms, living rooms or basements for a listening space versus high end recording studios that are designed with acoustics in mind. However there are ways to treat average-sized rooms to be utilized as control rooms, home theaters or two-channel listening rooms.
How Diffusion Works
Diffusors are used to treat sound imperfections in rooms such as echoes and are an excellent complement to sound absorption because they do not remove sound energy. In this video we'll examine How Diffusion Works.
The GIK Difference
There's a difference between a
GIK Acoustics
product and all others on the market.  We separate ourselves from other acoustic treatment manufacturers in 6 primary areas.
QUALITY MATERIALS MEAN QUALITY PRODUCTS: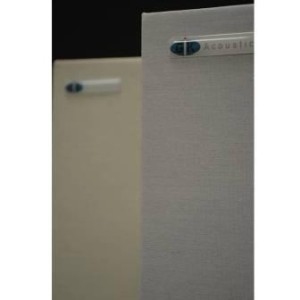 GIK Acoustics products are beyond simple do-it-yourself panels that are found on the market today. We start with only the highest-quality materials that will not sag or leak over time, then we build every panel by hand employing a unique two-frame system.Unlike other companies who use inexpensive materials, GIK Acoustics panels are crafted with
quality insulation material, fabrics and hardwood plywoods
.  We start with absorptive insulation material that is intended for room acoustics - not cheap mineral wool whose main purpose is to insulate a ship's engine room.We then use carefully selected hardwood plywoods - not cheap imports - to construct our frames.  The difference and chief advantage is
dimensional stability
.  Crossbanded layers and balanced construction mean that hardwood plywood won't shrink, swell or warp as much as lumber.  To finish our panels we offer an array of fine fabrics - from our standard 9 options to the full line of Guilford of Maine panel fabrics.Our team of professional builders
handcraft
each acoustic panel, bass trap and diffusor to exacting standards ensuring the most attractive, effective and dependable products.  The difference is our customers are secure in knowing they receive the very best made-to-order acoustic treatments available.
VALUE: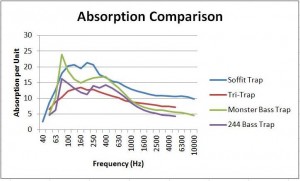 Dollar for dollar, GIK Acoustics' products absorb more sabins (sound) than any other product on the market. We provide our customers the most cost effective solution to make every space sound it's best.
GIK Acoustics Panels are tested and certified by the 
Riverbank Acoustical Laboratories
 (RAL)
 to provide the most accurate information on the results you can expect when you purchase our products.Our exceptional cost-to-benefit ratio
means our customers do not over-buy or over-treat a room to get results.
HELPFUL SUPPORT STAFF: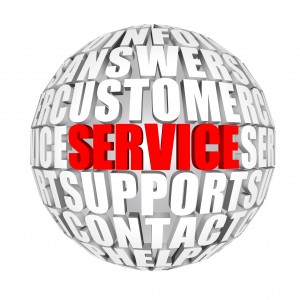 Customer satisfaction is our number one priority at GIK Acoustics.We start by helping customers determine the best products to treat their space with our free,
expert Acoustic Advice
.  Our well-respected design team has years of experience and are available to provide assistance not only with product selection but product placement within your room.In addition to providing knowledgeable recommendations, GIK Acoustics maintains contact throughout the order process. Our trained
Customer Service
team ensures quality, timely delivery and reliability.  And our staff is available to help with special needs or custom orders.The GIK Acoustics difference is we assist with everything from product inquiries to custom orders to delivery notifications to satisfaction follow ups.
We guarantee it
.
INFORMATIVE: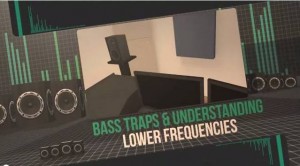 When it comes to improving the sound quality in a room, many find the science to be overwhelming and the task of DIY'ing acoustic treatments to be daunting. As part of our commitment to our customers, GIK Acoustics provides
Educational Articles
and
Videos
to demystify room acoustics. It's long been our goal to help customers truly understand how sound behaves in a space and the importance and benefits of proper room treatment.
INNOVATIVE:

Over the past 10 years, GIK Acoustics has pioneered a number of acoustic treatments that you can't find anywhere else. From the
Tri-Trap Corner Bass Trap©
to our
Soffit Bass Trap©
to the built in
Scatter Plate
, GIK continues to innovate. After a year of research & development, we introduced
FlexRange Technology
- our unique, patent pending system for providing the best in bass trapping and low end absorption.
ENVIRONMENTAL:

It's our commitment to use environmentally safe materials for all our products.  We use ECOSE absorption material, eco-friendly wood and we offer customers recycled fabric options as well.
Greensafe
means GIK Acoustics products are friendlier on air quality, the environment, and your budget.
Related products